Czech Republic vs Iceland T20 Live score Streaming Valletta Cup 2019 : live scorecard streaming by cricinfo.com and Malta cricket Twitter. Yoy may follow all Live Score card updates or ball by ball scorecard on cricinfo.com match page or on @MaltaCricketOne Team. We will provide you Velleta Cup 2019 Teams, Schedule and Live scorecard streaming links here.
Czech Republic vs Iceland T20 Live score Streaming Valletta Cup 2019 | Match Schedule
17/10 – 11:00 AM PKT
1st Match, Malta Quadrangular T20I Series at Marsa, Oct 17 2019
Czech Republic vs Iceland – Live Scorecard
Valletta Cup 2019 Teams Squad, Fixtures and Schedule, Live Scorecard cricinfo.links
The 2019 Valletta Cup, is an upcoming Twenty20 cricket tournament that is scheduled to be held in Malta between 17 and 20 October 2019. The participating nations are the hosts Malta along with Czech Republic, Hungary and Iceland.
Matches played between Malta and the Czech Republic will have official Twenty20 International (T20I) status, but because Iceland is not currently an Associate Member of the ICC and the selected Hungarian squad is not an official national side, matches involving either of these teams will not have T20I status. The matches will be played at Marsa Sports Club in Marsa. Click for Points table
Valletta Cup 2019 Teams Squads
Malta Cricket Team Squad
The 6 new boys to the Malta National Team received their first caps at a special dinner organised by the Malta Cricket Association at Corinthia St George's Bay Hotel on Sunday. The MCC were our esteemed guests. (More pictures from that evening will be out later this week).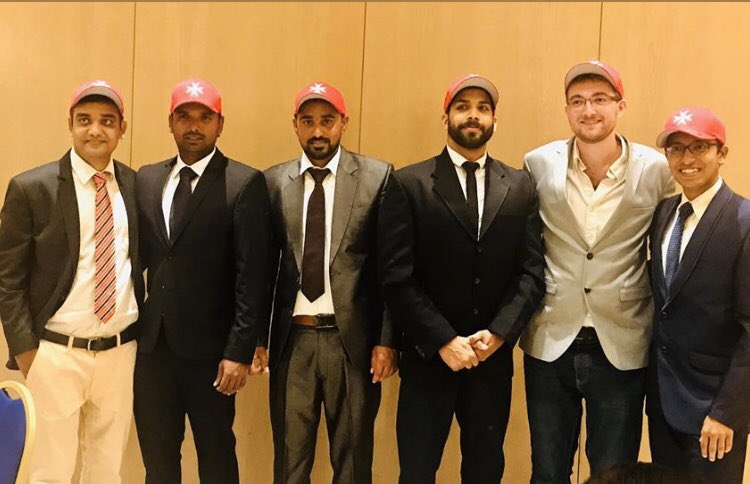 Edward Knowles (c),, Hilal Ahmad, Naveed Ahmed, Arun Ashokan, Shaun Dalton, Sabawoon Davizi, Kyle Gilham, Honey Gori, Siddarth Goud, Arshad Hayat, Kushalkumar Mendon, Shoumyadeep Rakshit, Paul Taylor, Sudesh Wickramasekara,
Abhijeet Ahuja (c), Abhishek Ahuja, Shehroz Ali, Maaz Bhaiji, Habib Deldar, Khaibar Deldar, Steffan Gooch, Ali Haider, Abhishek Kheterpal, Zeeshan Kukikhel, Nishanta Liyange, Harshvardhan Madhyan, Akramullah Malikzada, Sufiyan Mohammed, Satyadeep Narayan, Safi Zahir
Nolan Williams (c), Dushan Bandara, Lakmal Bandara, Keenan Botha, Abhi Chauhan, Leslie D'Cunha, Derick Deonarain, Brendon Fernando, Sammy Gill, Kit Harris, Sadun Lankathilaka, Lee Nelson (wk), Jakob Robertson, Prabhath Weerasooriya,
Bikram Arora (c), Waseem Abbas, Sujesh Appu, Samuel Aquilina (wk), Sean Byrne, Gopal Chaturvedi, Michael Goonetilleke, Jurg Hirschi, Sumair Khan, Nowell Khosla, Alex Meears, Haroon Mughal, Suhrid Roy, Ravinder Singh, Aneesh Tomy.
Czech Republic vs Iceland T20 Live score Streaming Valletta Cup 2019
MatchesAll times
2019 Valletta Cup latest news and Updates